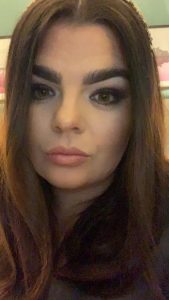 We would like to introduce you to our newest member of the team Yasmin Knox, she has been with us here at Quad Fuels for nearly a year, but after her six-month probationary period, we haven't seen much of her unfortunately thanks to the lockdown. Despite this, she has been busy working from home, taking your calls and queries and has been ready to assist our wonderful customers with all their fuel needs.
Yasmin joined the Quad family at the end of September 2019 after being on maternity leave, having her beautiful baby girl Penelope. Her family already includes her daughter Eva and boyfriend Dan, who also has another daughter called Evie. They are a lovely hard-working family, and Yas is actually a niece to one of our company directors, Steve Forkin. So you could say, selling oil is in the blood!
Yas has worked in previous employments in the same role and industry, before joining the Quad family. Living in Wrexham, she's familiar with the local area, businesses, farmers and those who are on domestic oil.
Please don't hesitate to give her a call on 01978 423150 today, and she will be happy to give you a competitively priced quote and to place your order. From the whole Quad family, take care and be safe!