Here at QUAD, we wanted to share a heartwarming story about one of our tanker drivers Steve Harper and his lovely wife Denise. During this COVID-19 period, Denise has been keeping herself busy making wash bags for the NHS staff of local Glan Clwyd Hospital for free. We want to say a huge thank you to Denise for showing us all that community spirit is still big in our area!
They have been distributing them via bicycle to the hospital for distribution to staff who are busy working on the frontline of this virus outbreak. We absolutely love that Denise and Steve are doing their bit for environment and getting their daily exercise at the same time with their wonderful bicycle deliveries – Steve even does these trips after a shift working for us from 5:00am in the morning!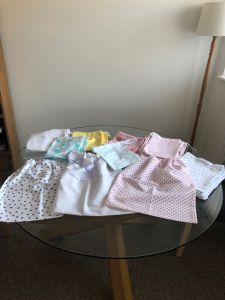 These bags are to be used when they need to wash their possibly contaminated clothes after working a shift at the hospital. The idea behind the bags – you are supposed to put your clothes in them after you get changed at work – they can then be put straight into the washing machine at home, keeping them separate from other clothes in the household.
We want to praise the staff for working and protecting everyone from Quad Fuels to the NHS and also a recognition of our own tanker drivers also doing the same front line work delivering the fuel.