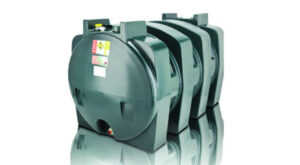 If you are about to move to a property which uses heating oil, it is important to know what you are buying. Our complete guide on oil tanks will help you understand regulations to follow, and the level of maintenance they require.
The Types of Oil Tank
Oil tanks usually have a life expectancy of around 20 years. There are two types of above ground oil tanks. These are both usually manufactured from plastic or steel.
Single skinned oil tanks: Created from a single layer of steel or plastic, providing a lower level of protection against leaks and damage. Current building regulations and oil storage regulations rule out the use of these in most cases – and installing this style tank where a bunded tank is required is a serious offence and is not following regulations.
Bunded oil tanks: These are the safer option and are essentially a tank within a tank. The outer tank can hold 110% of the content of the inner tank and all of its fittings.
It is best to replace older tanks before they break. These should be installed by a professional installer following regulations, and your old tank should be emptied and removed. Make sure to remove any redundant fill pipework and mark the old ones with a 'do not fill' sign.
The Positioning of your Oil Tank
When positioning your oil tank at your property you will want to check the following:
That you are adhering to the building regulations. For example, in many regions, to lower the pollution risk from fuel spills, it is mandatory for oil tanks to be bunded.
There is a minimum of 1.8m from any openings to the building.
The tank is placed on a base which is 300mm larger in every direction away from the tank. And on top of either a minimum of 100mm thick concrete slab or 50mm thick paving slabs.
Allow space around the tank for regular maintenance checks and for the distributor to safely refill the tank.
Maintaining Your Oil Tank
To keep your tank in the best condition, it is advised that you carry out a visual check every 6 months. Our drivers on making the deliveries will also check the condition of your tank for free. You will want to look out for the following:
Rust, cracks, splits and bulging
Sun bleaching
Subsidence on the base of the tank
Correct function of gauges
Overgrown foliage on the tank
An unusual smell to the oil
Sudden oil use increase
You should get you oil tank serviced annually by an OFTEC registered technician who will need to check; the pipework, integral bund, gauges, valves and oil filters.
If you spot a leak on your oil tank, put out a container to catch the spillage and call the national pollution incident hotline on 0800 80 70 60 (England, Scotland, & Northern Ireland) and 0300 065 3000 (Wales).
Summary
Article Name
Description
If you are about to move to a property which uses heating oil, it is important to know what you are buying.
Author